Glucosmos -
Glucose Monitoring App
Background
With the introduction of Continuous Glucose Monitoring (CGM) devices, diabetic patients have a more convenient way to measure glucose level than the traditional method of pricking their finger
Diabetic conditions can be significantly improved by adopting a healthier lifestyle
While there are many devices and apps to monitor glucose level, there is currently no digital product that helps diabetic patients to adopt a healthier lifestyle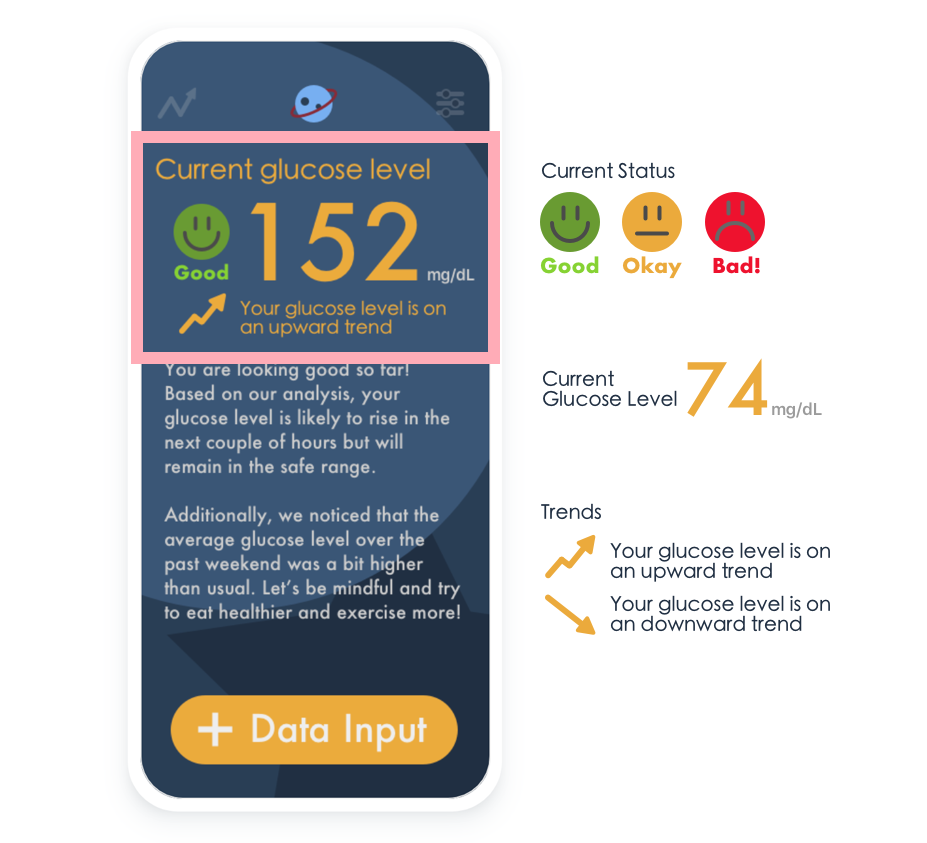 Feature 1
Key Information
Diabetic patients can easily access the most relevant and critical information.
Health Status

Glucose health status is displayed in traffic light signals allowing the user to intuitively understand their current status
Glucose Measurement

Current glucose level can be easily found and read by the user
Glucose Level Trends

User can take appropriate actions based on the glucose trends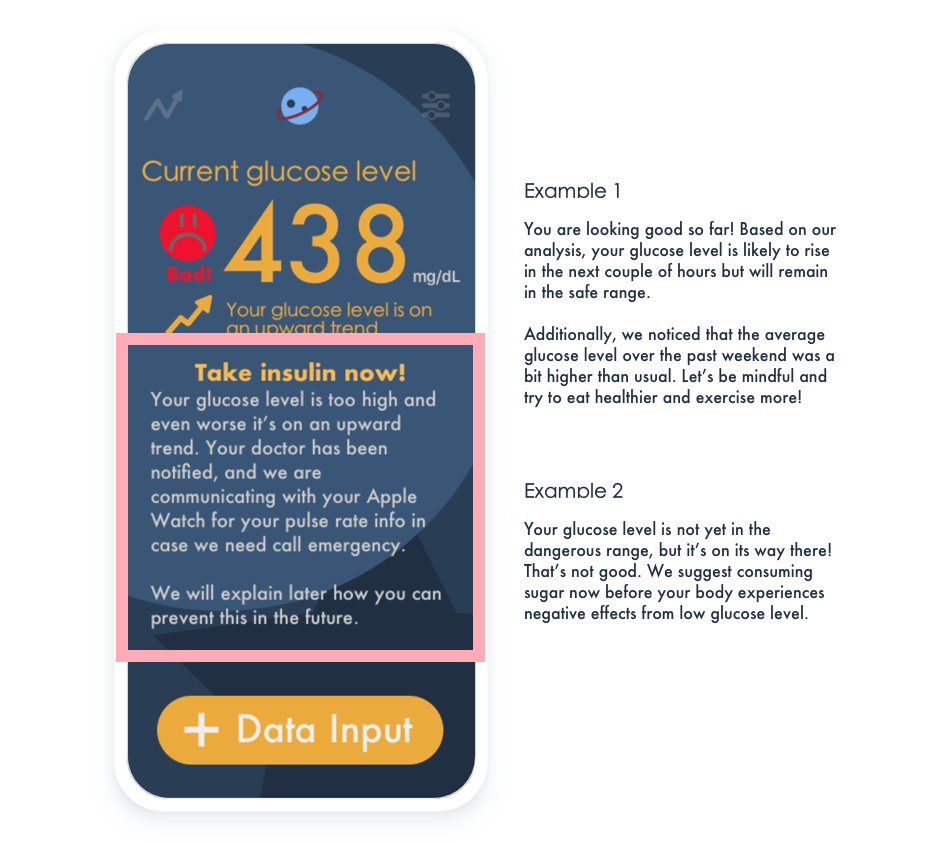 Feature 2
Medical / Lifestyle Suggestions
User is provided with tailored medical/ lifestyle suggestions based on current glucose level, historical data, etc.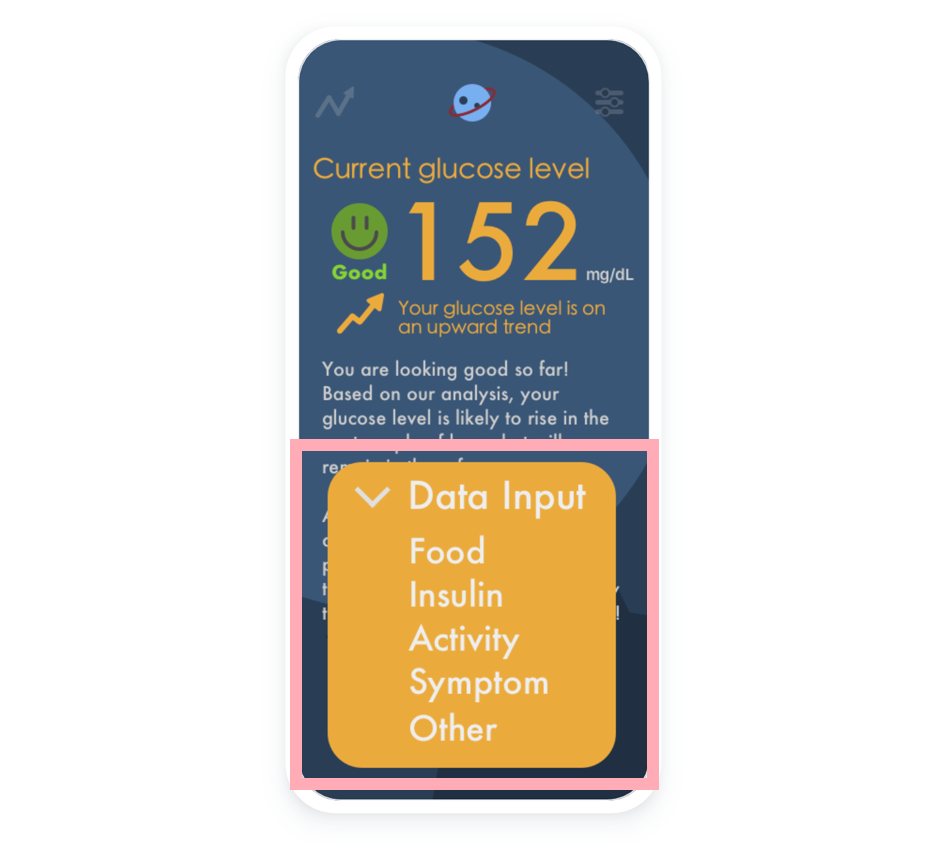 Feature 3
Easy Data Input
User is encouraged to input as much data as possible. The app and medical professionals can provide better medical service/ suggestions with additional information, such as food, insulin, activity and symptom info.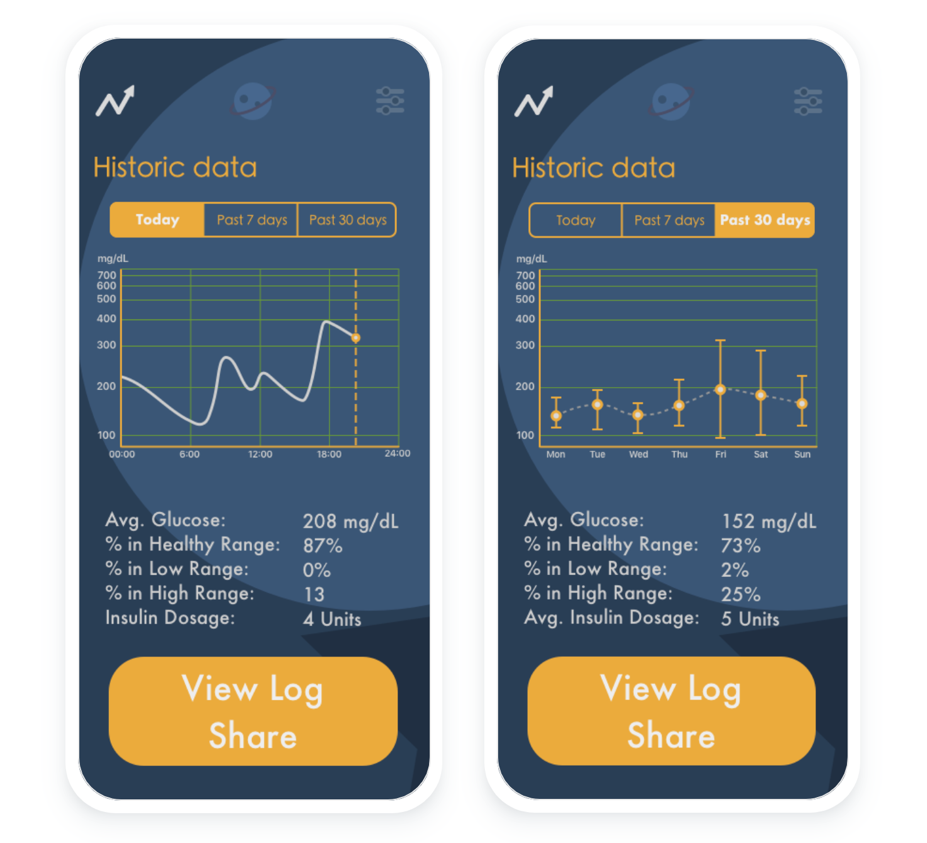 Feature 4
Historic Data
User and medical professionals can easily interpret historic data, which not only includes the glucose measurements but also additional info, such as food, activity and symptom info, which adds context to the glucose measurements data.
User can view historic data for the past 1, 7 and 30 days

1 Day - Today's data
7 Day - Daily average by hour
30 Day - Weekly average by day
Interviews & Research
I Interviewed 1 medical professional and 3 diabetic patients
Interview Question Examples:
How do you prepare for an appointment with a diabetic patient?

What questions do you ask diabetic patients?
What information is essential in assessing diabetic condition?
How often do you go to hospital for your diabetic condition?
How do you currently monitor your glucose level?
When was the last time you were in a critical situation due to diabetic condition?
Studied research papers on diabetes and Continuous Glucose Monitoring (CGM) devices
Researched existing glucose monitoring tools and apps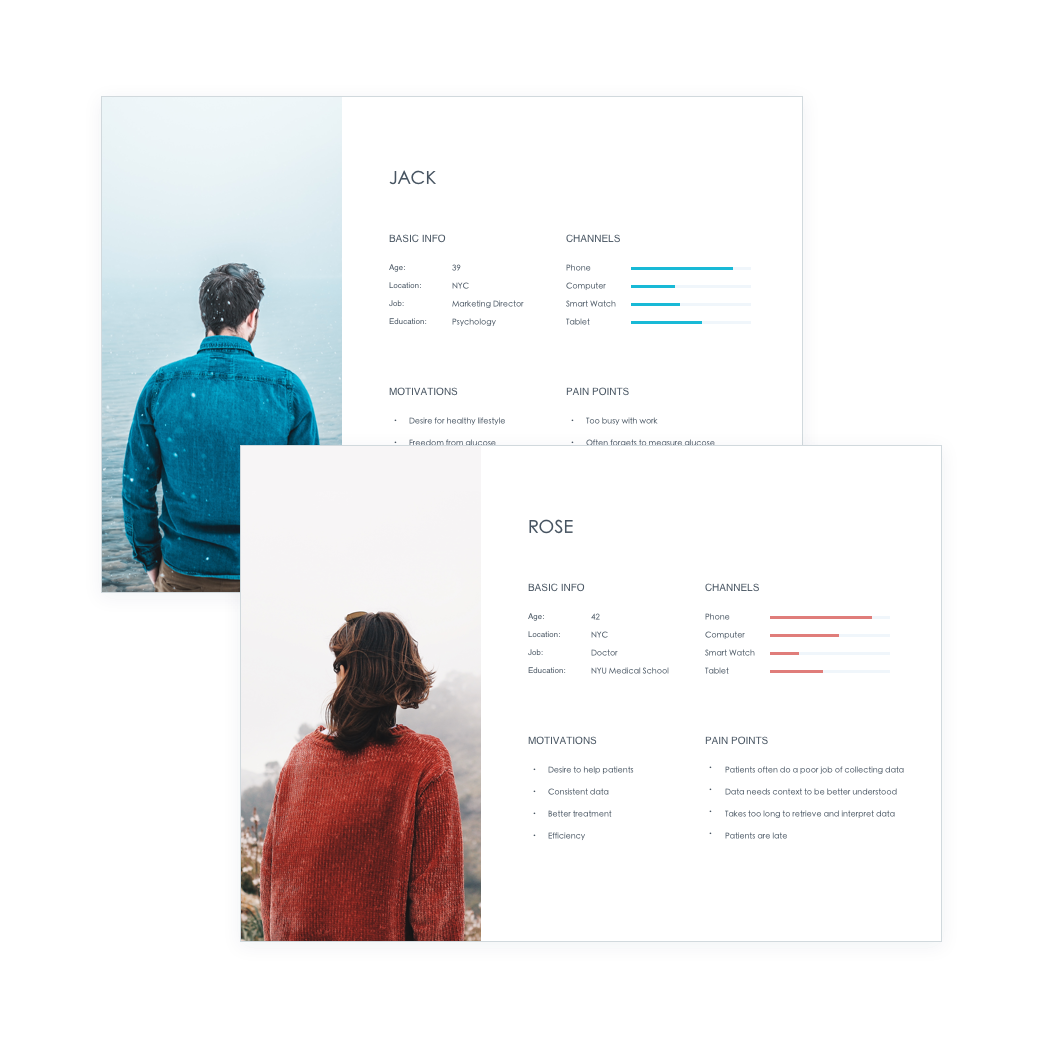 Pain Points
I set up two personas to identify key pain points. I referred to these personas throughout the design process.
Medical Professional Pain Points
Patients often do a poor job of collecting glucose data
Data needs context to be more accurately interpreted
Takes too long to retrieve and interpret data
Diabetic Patient Pain Points
Often forgets to measure glucose level
Takes reactive actions, not preventive actions
Lacks knowledge for adopting a healthier lifestyle for diabetic condition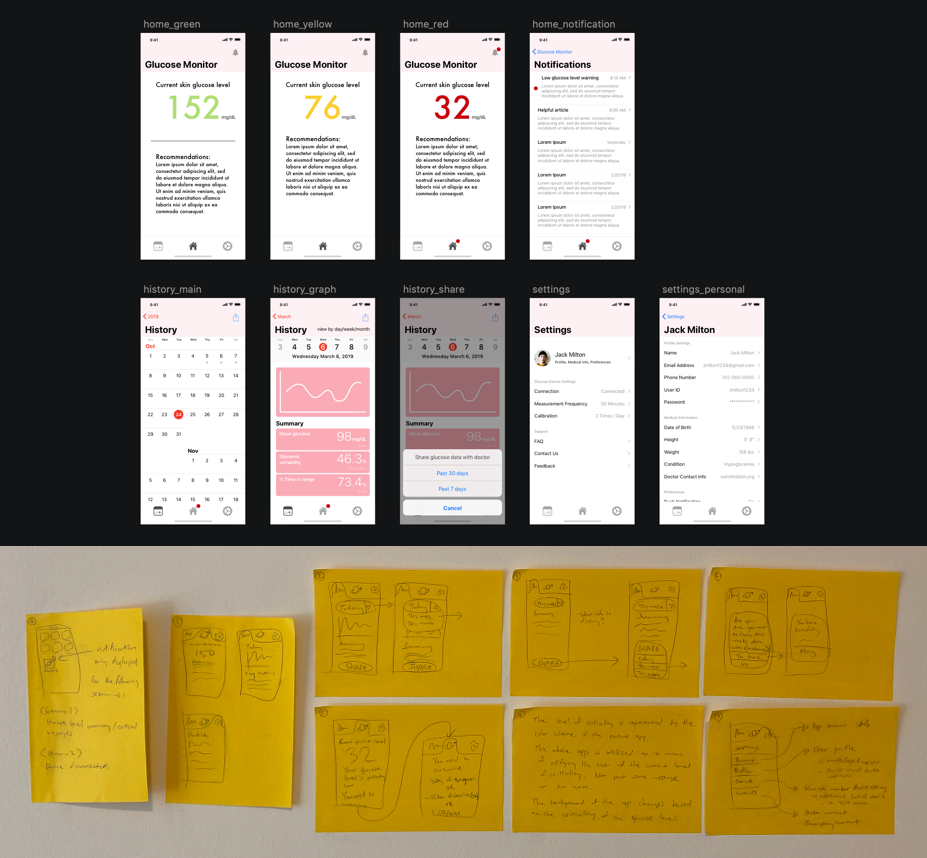 Aesthetics
The app has gone through iterations of user flow sketches and user interface designs. Every aspect of the app (UX flow, icons, etc.) has been created from scratch.
Aesthetic Goal:
Make the app feel approachable and dependable
Design Theme:
Space theme that matches with the name/ slogan of the app (Glucosmos/ "Welcome to the universe where glucose doesn't get in your way")

Focus on the user's feelings




Need to feel not overwhelmed
Need to feel greeted and familiar
This project was my very first product design project. At first, I leveraged existing iOS design resources as much as possible, but soon felt like my creativity was being restricted in designing the overall UX flow and user interface. By creating the UX flow and user interface from scratch, I was able to focus more on the small details and the feelings of the users.
It has been a wonderful experience working with everyone who were involved in the interviews and design process. This project has not only taught me the design principles and skillsets, but also the importance of being mindful and empathetic about the end users.

Skills learned
Wireframe with Sketch
Prototype with InVision
User Research
Thanks to everyone who helped me gather information, taught me design skills and mentored me through the design process!