Sweeps -
Sneaker Raffle / Resale App
Background
I am a HUGE sneaker fan and a collector, and I decided to design this app based on my personal experiences and frustrations during the sneaker raffle/ resale process

Sneakers are an integral part of street fashion and a great way of expressing individuality




Sneaker brands like Nike and Adidas have been collaborating with artists and other fashion brands, such as Virgil Abloh, Travis Scott and Christian Dior, to create truly artistic and unique sneakers

These collaboration sneakers are often limited in supply, creating a massive resale values

Apps like StockX and Goat offer safer ways to sell and purchase sneakers in the resale market, but they fail to address some of the most critical issues in the sneaker resale market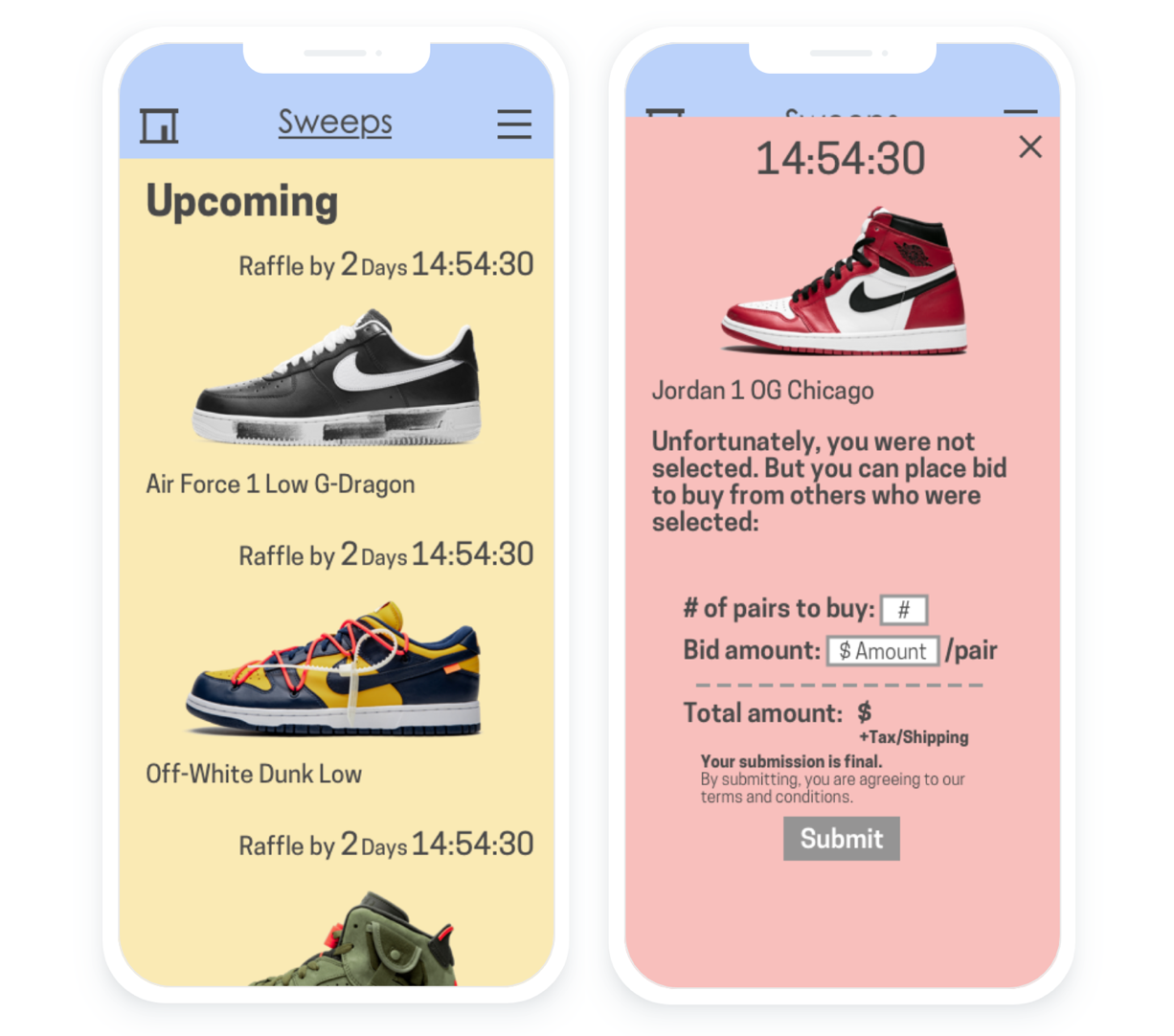 Feature 1
Simplified raffle/ resale process
This app not only shortens the lead time and reduces the total number of transactions, but also guarantees authenticity of the sneakers by directly connecting the authorized retailers to the final buyers.
Both the raffle and resale processes take place within the app. Only the final buyers are connected with the retailers, regardless of whether the purchase was made via raffle or resale.

*See process flow comparison below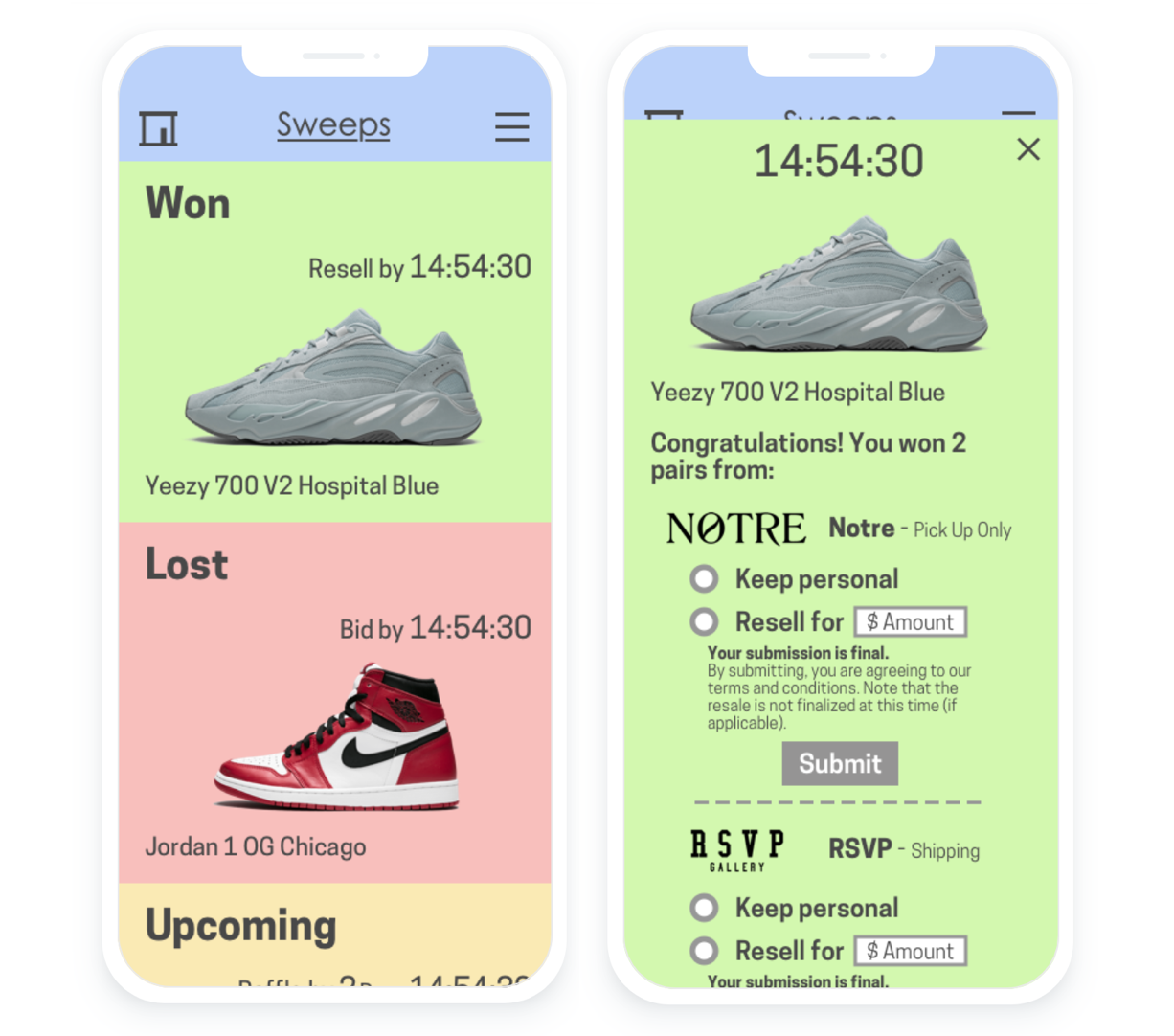 Feature 2
Less exposure of Personal Info
Customer's personal information is not shared with the retailers until an actual purchase is made. Entire raffle and resale process is done within the app. The retailers are connected directly with the final buyers after the raffle and resale processes have taken place.
*See process flow comparison below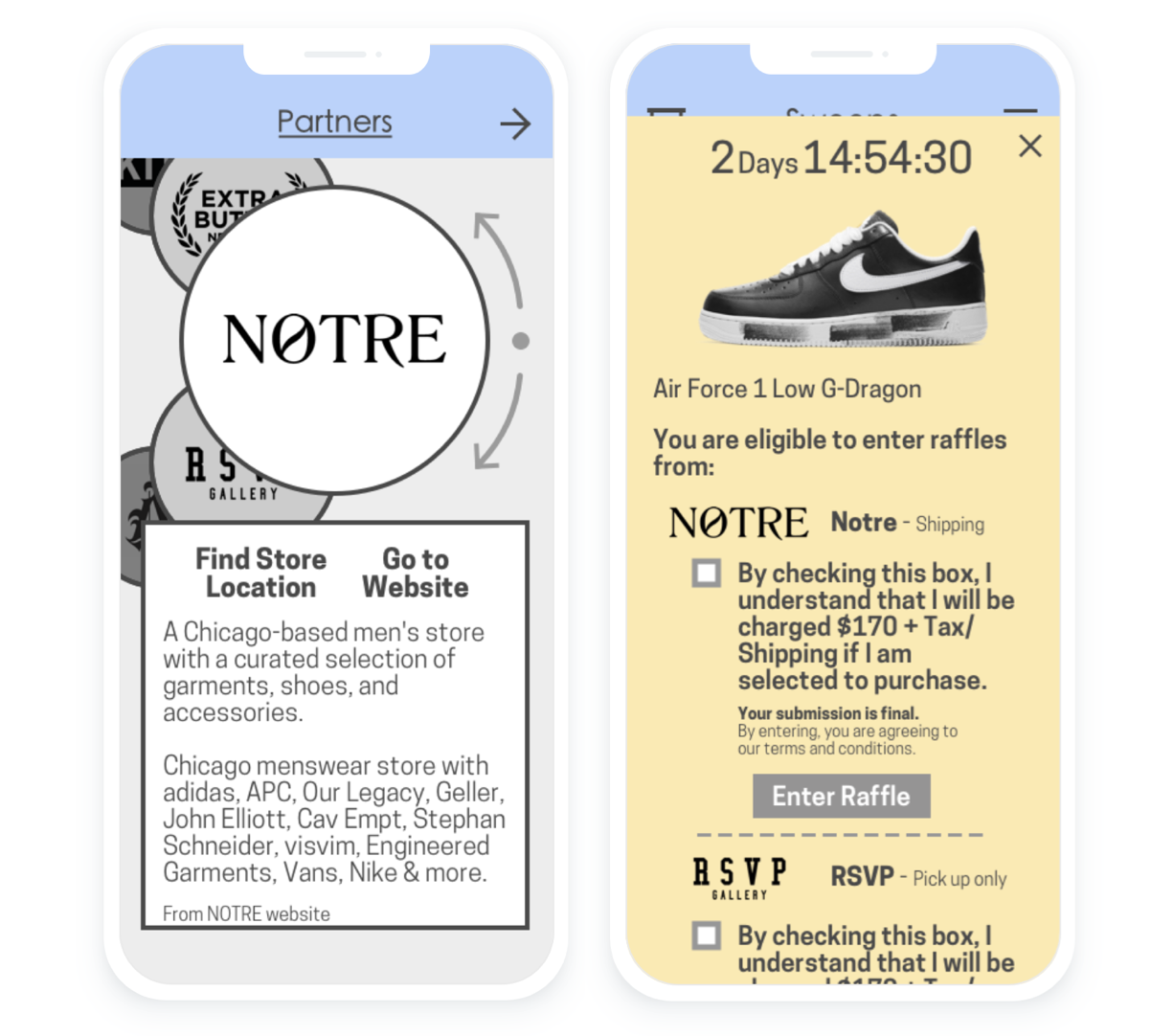 Feature 3
Advertisement for Retailers
Retailers are represented as the partners of the app. There is a designated Partners screen, which introduces the partners to the app users who are already a targeted audience for these retailers.
Additionally, opting to sell sneakers on Sweeps App is an attractive option for the retailers not only because the entire raffle process is handled by the app, but also because part of the resale profit is shared with the retailers.
The raffle/ resale process is divided up by retailers so the users feel like they are working with the retailers and not just with the Sweeps app.
The idea for this app came from my personal experiences and frustrations. So it was especially crucial for me to organize my thoughts and define specific goals.
Identifying pain points:
Concerned about the counterfeit sneakers in the resale markets. StockX and Goat are the two most popular platforms to purchase sneakers from other resellers. The primary reason why these platforms have gained popularity is because they authenticate every sneaker sold through their platforms. However, there are reports of counterfeit sneakers passing these authentication processes. No one can be 100% confident unless buying directly from the authorized retailers.
Annoyed by the tedious process of going to each of the retailers' websites or even visiting physical stores to enter raffles. Each retailer has its own raffle process, and it's almost impossible to keep track of all the available raffles for the same pair of sneakers. (To address this pain point, there is some level of collaboration required between these retailers. I understand that these retailers are individual entities, but that doesn't mean that they don't share a common interest to serve customers better and to offer a better buying experience.)
Concerned about my personal information being leaked. Every raffle entry and every resale transaction requires personal information. The more instances of sharing personal information, the higher chance of it being leaked. StockX app, a popular sneaker resale platform, has recently been hacked and its users' personal information has been leaked.
Anxious to sell sneakers as soon as possible. From the time sneaker raffles open to the time sneakers are sold on resale market usually takes about a month. This process doesn't have to take this long.
Defining goals:
Overarching goal: Reinvent sneaker raffle/ resale process to foster healthier sneaker culture
Develop a resale platform that is free of counterfeit sneakers
Bring raffles from various retailers onto a single platform
Reduce the number of times personal information is shared with external parties
Shorten the lead time from raffle entry to resale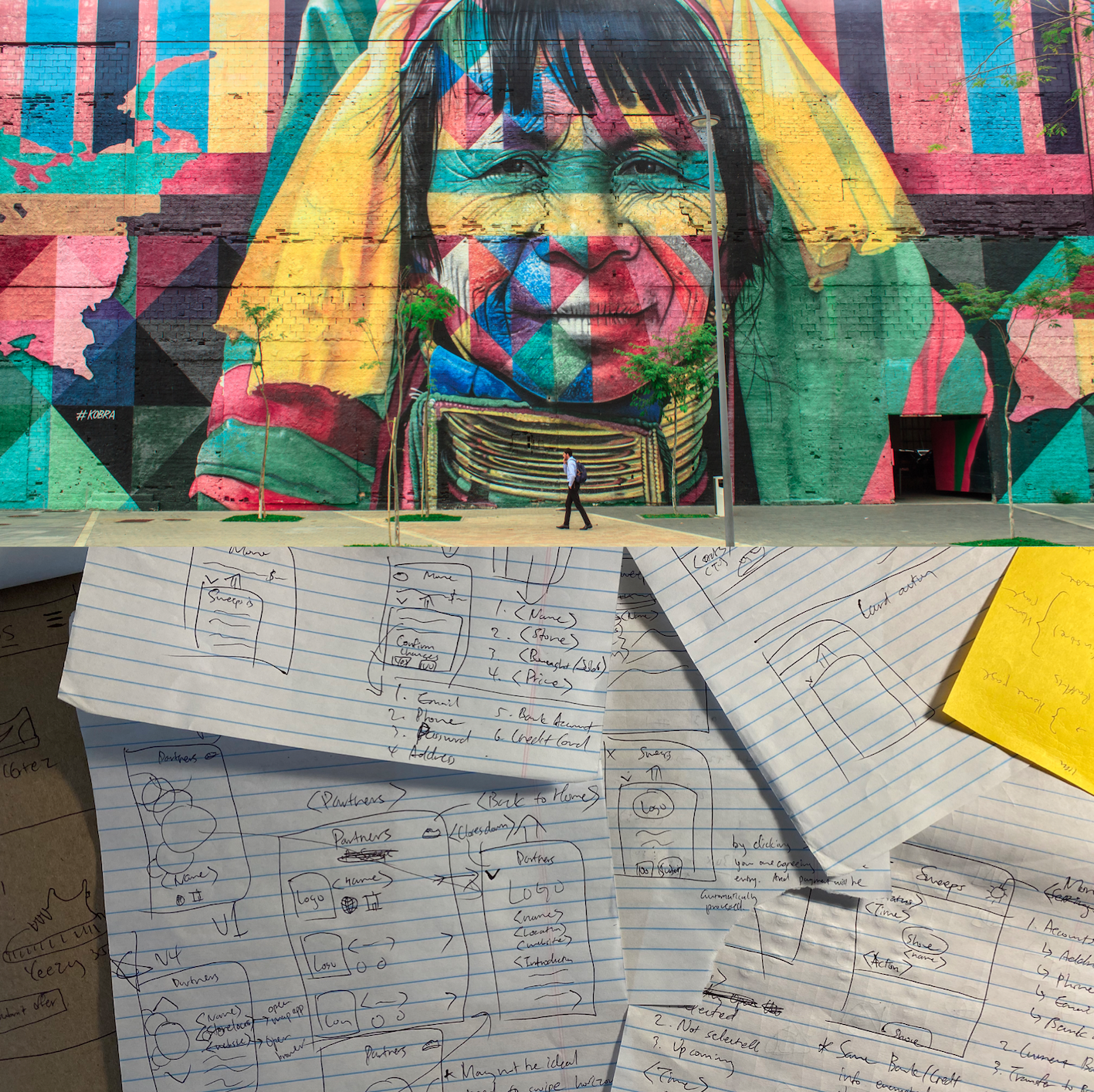 Design Inspirations
Graffiti
I was looking at graffiti in pastel-tone colors, which was almost unnatural and overly-vibrant compared to the surrounding environment; yet it was so unique and beautiful
I used vibrant colors to give the app a distinct feel and look, and to represent the dynamic street culture
Functionality in Design
Colors representing statuses
Green: Won raffle (available for reselling)
Red: Lost raffle (available for resale purchase)
Yellow: Upcoming raffle (available for raffle en
Usability
User flow needed to be succinct and intuitive due to the complex nature of the sneaker raffle/ resale process
I made sure that the user flow was clearly defined prior to working on wireframes and UI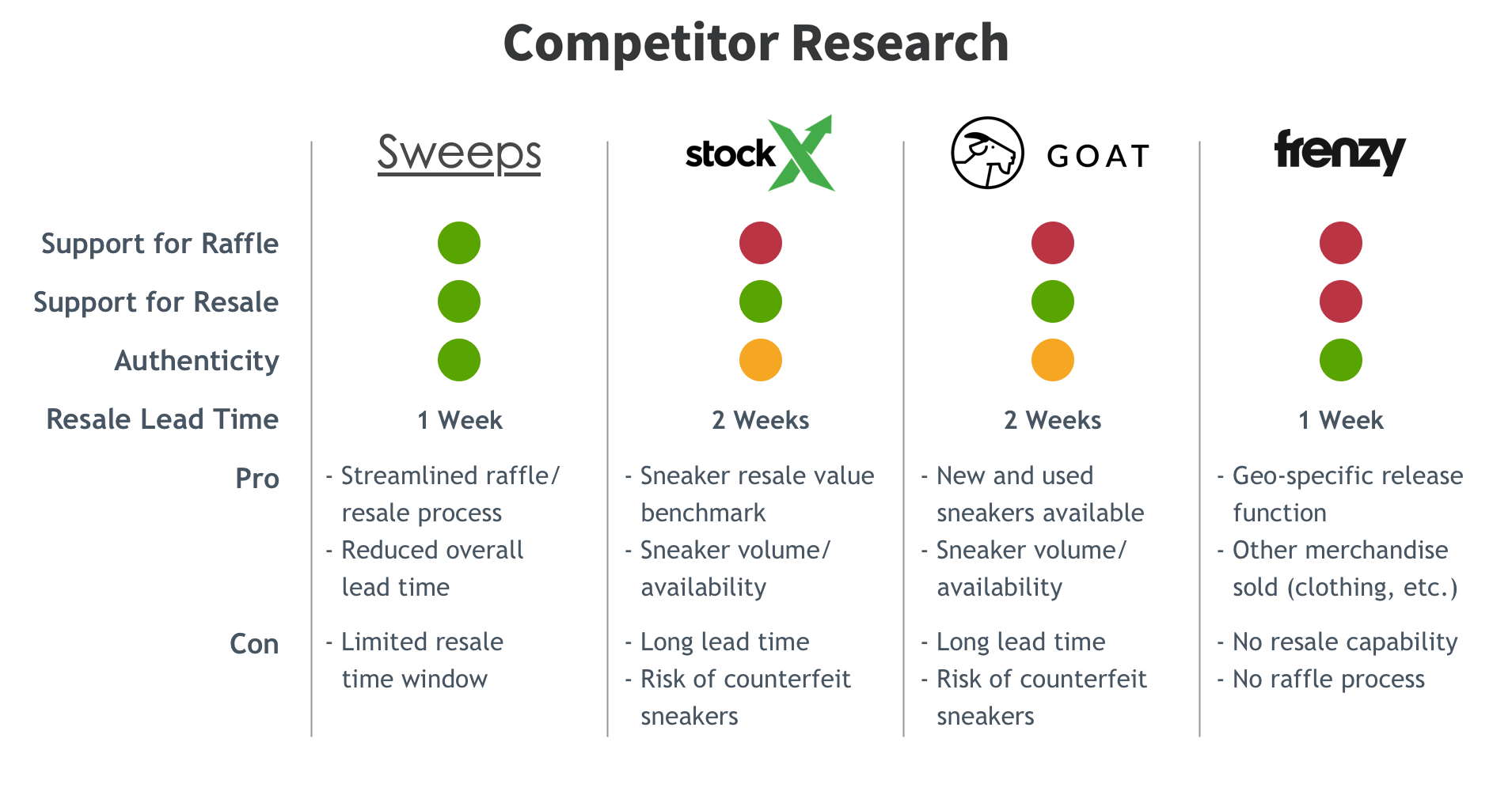 SO MUCH FUN!
As stated in the beginning, I love sneakers, so the entire design process has been extremely relatable and fun. I learned that I'm able to consider smaller details and design better user flows when I'm well acquainted about the service and when I really understand the user's emotions and expectations. In future projects, I will make sure to do a thorough research prior to starting any design work.
Scalability
The app can be expanded to broader markets (i.e. Asia, Europe and South America) without needing to update the design or the user flows. Additionally, the same business model can be applied to any other types of products that has a resale value, such as wine and concert tickets. However, it is still important to thoroughly research, study and understand the emotions, cultures and unique qualities of each product before jumping into building the app for other products.
Future Plans
I plan on preparing presentation materials to pitch the idea to sneaker shops in Chicago area. Based on their reactions and feedback, I will make further improvements to the app design.