GO TO HOME PAGE
Product Designer
The Grint App Redesign
Redesigned an existing golf app to improve
its overall user experience
BACKGROUND
During the pandemic, I took up golfing and it quickly became my favorite hobby. I've tested various golf mobile apps and found The Grint app to be my favorite due to its community features. However, I found the app's design outdated and confusing, so I decided to redesign it.
Problem
The Grint app has a cluttered and unappealing user experience due to the excessive information, confusing page design, and outdated appearance.
Goal
Improve the overall user experience of The Grint app by
1. Organizing functions into a coherent structure
2. Creating a clear information architecture
3. Updating the look and feel of the app
EXPLORATION
To comprehend user requirements and pinpoint the app's major issues, I conducted interviews with regular users, reviewed online feedback, and documented my own experiences as a user. I then consolidated my findings and prioritized addressing the following three core problems.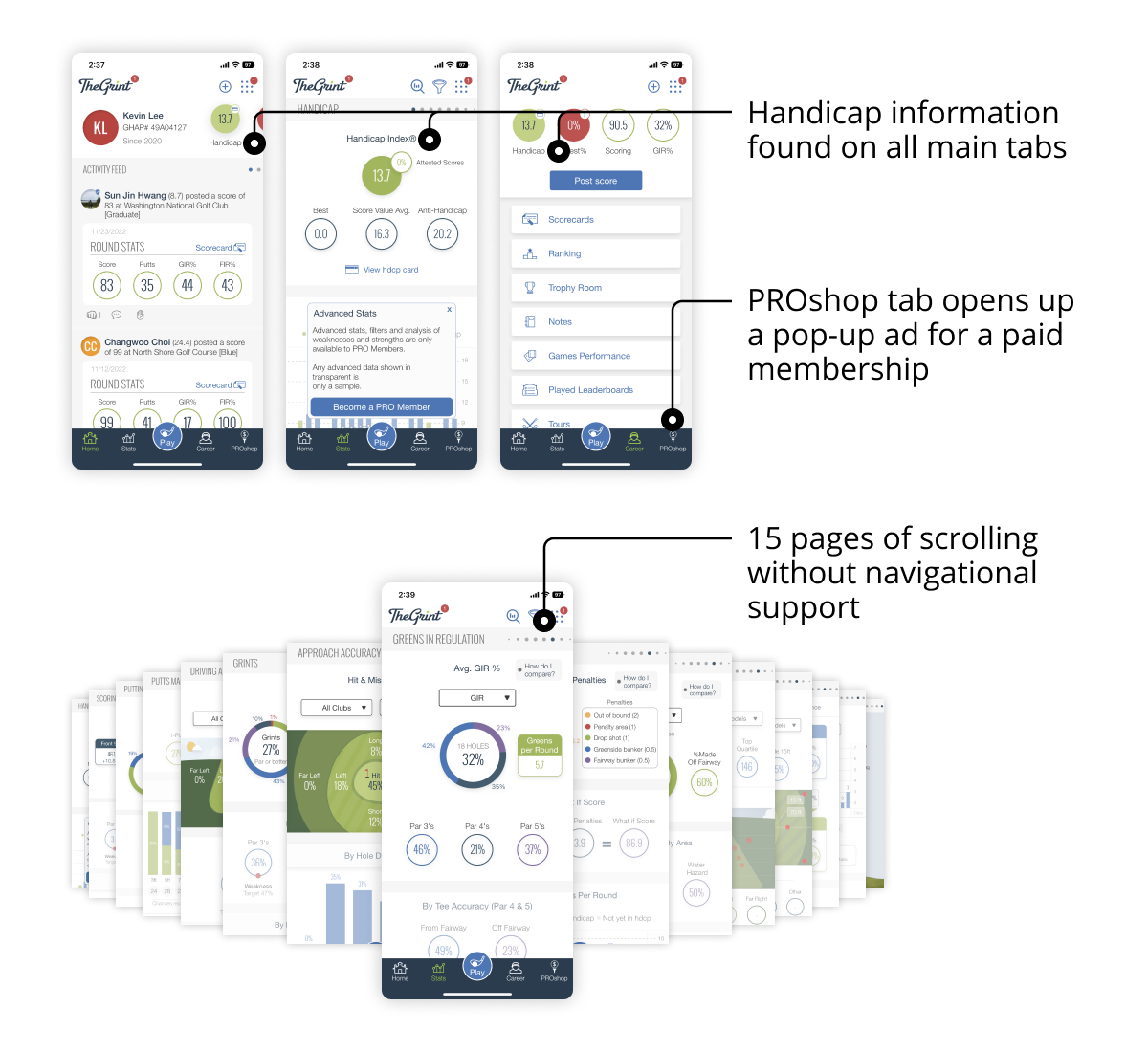 Unclear information architecture
The app presents too much information and features in a disorganized manner, making it difficult for users to navigate. For example, the handicap index appears on multiple tabs without a consistent appearance. The stats tab contains 15 pages of golf statistics that are horizontally scrollable, but without clear navigation, making it hard for users to find what they're looking for.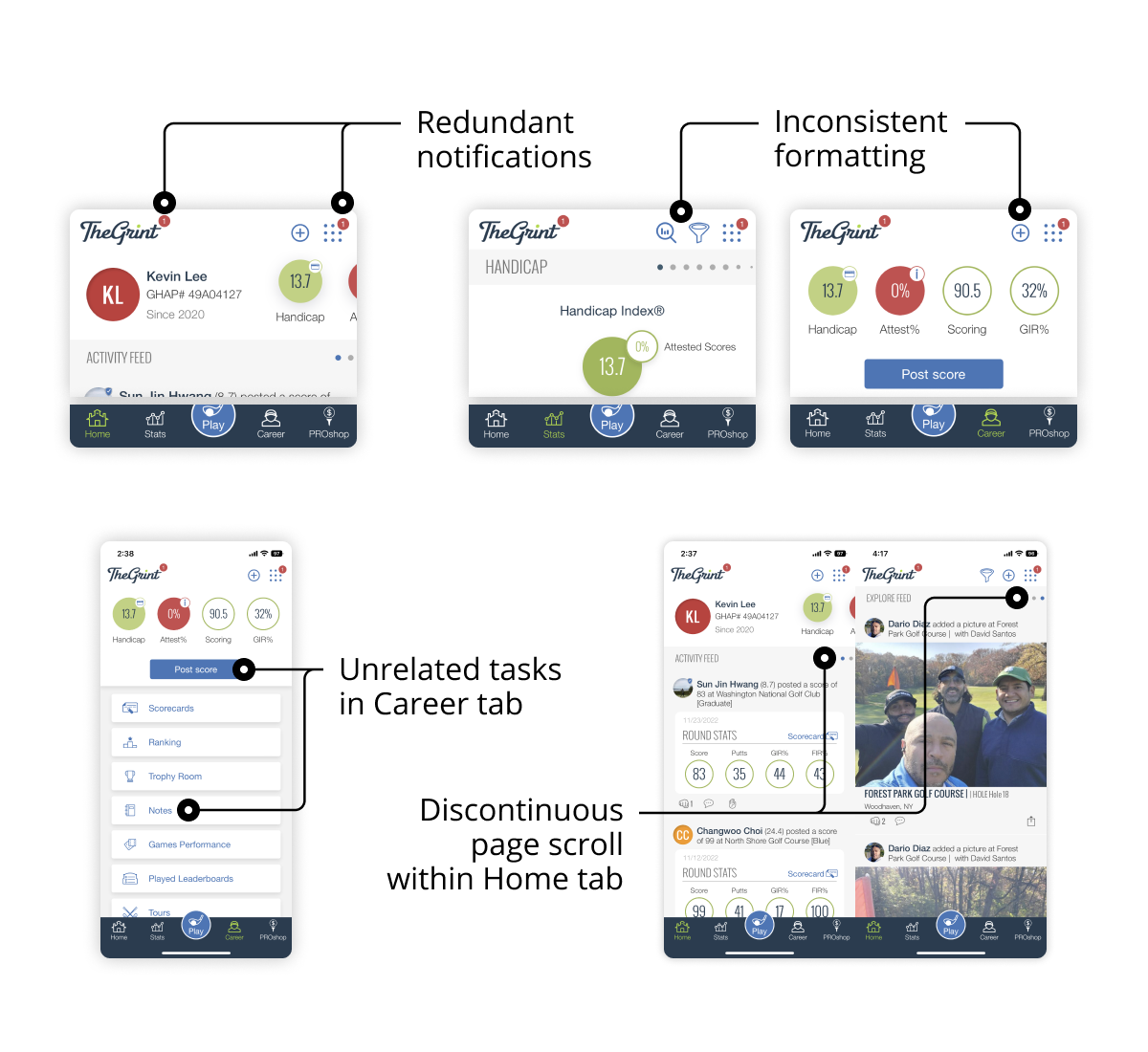 Lack of continuity
The tabs and pages within the app are arranged in an inconsistent and confusing manner, causing users to struggle when performing actions. The top section of each tab varies significantly in design, leading to further confusion. The career tab, meant for storing historical data like rankings and achievements, also includes non-related tasks like viewing notes and posting scores, further complicating the user experience.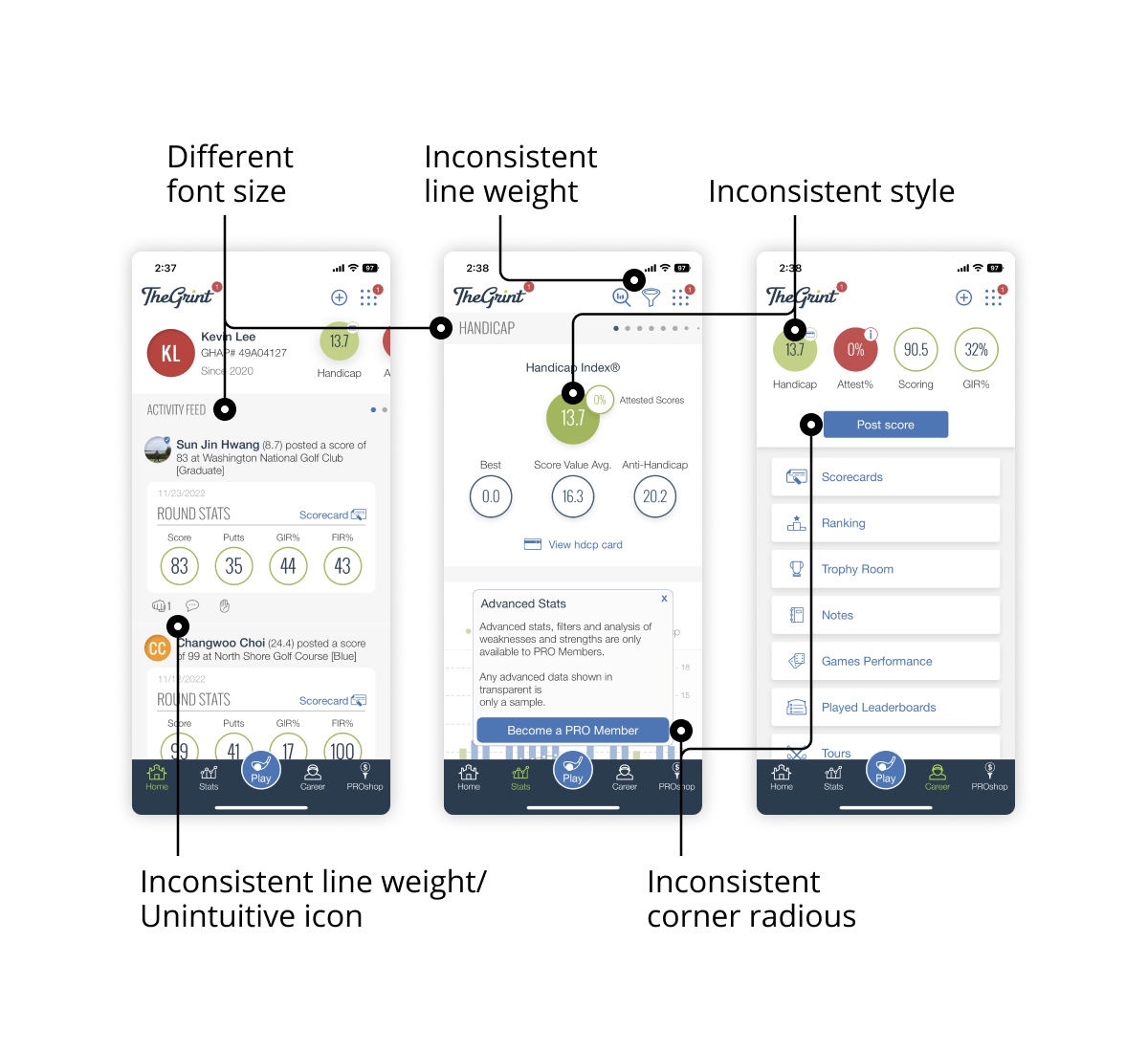 Incoherent visual elements
The app's visual elements, such as font types, sizes, spacing, and colors, lack coherence, diminishing the clarity and quality of the information and experience. For instance, the icons for the like, comment, and attest buttons are problematic. They are not clear enough to indicate the intended actions, have inconsistent line weights, and the use of green and blue colors causes confusion for users regarding who took the action.
DESIGN
Before beginning the visual design, I divided all features into three categories: community, statistics, and rankings. I then prioritized the actions and information within each category. I used this categorization and prioritization to establish a reliable information hierarchy for the app. After multiple design iterations, I settled on the final design and built a design system based on the Grint app's existing brand identity. Here are some key features of the redesigned app.
Organization
I organized every function and information into three groups: community, statistics, and leaderboard. These groups served as the basis for the three main tabs. The large volume of golf statistics required categorization and prioritization for easier consumption and searching. I grouped the golf stats into four categories: round, drive, approach, and putt for better organization.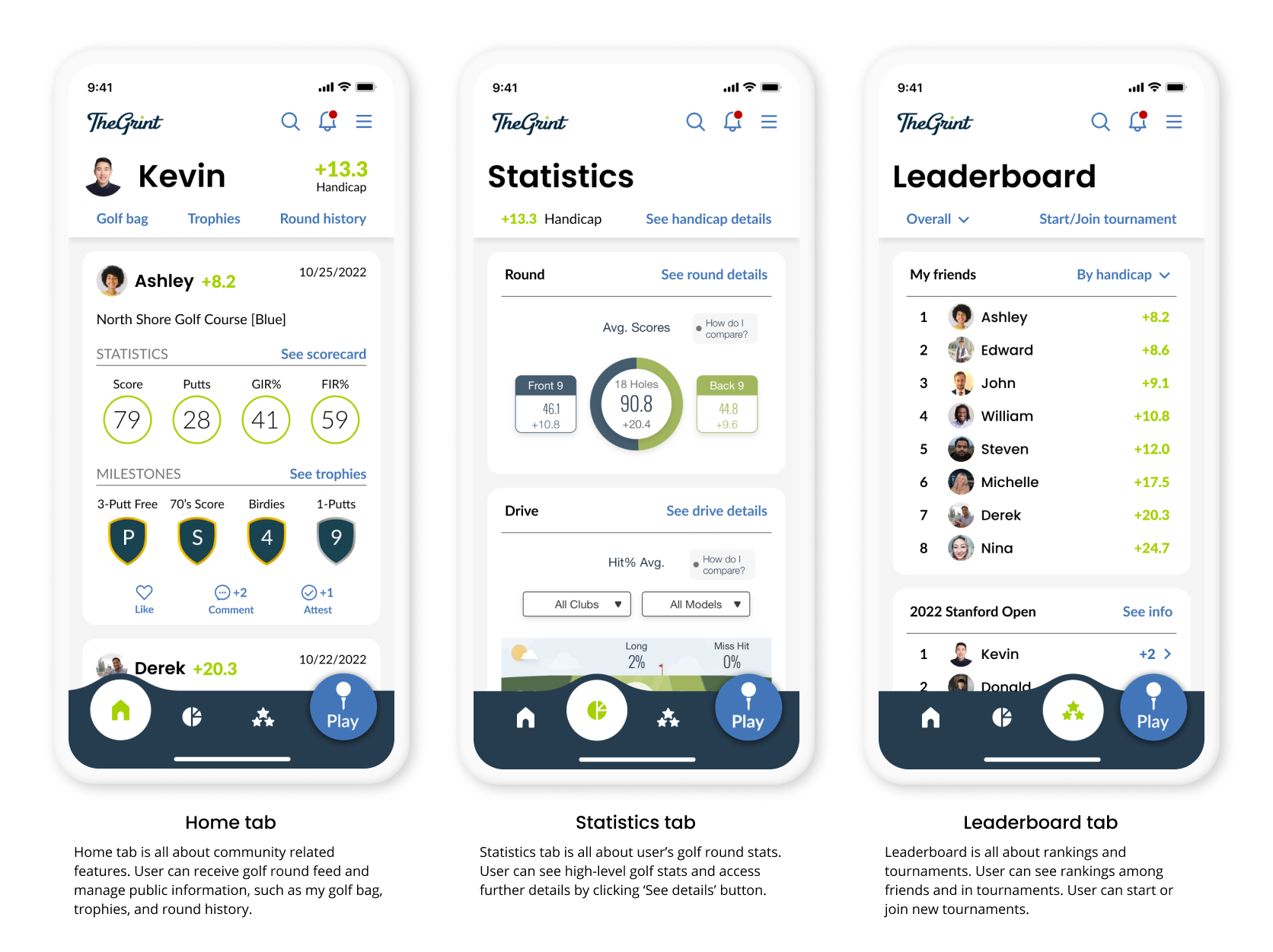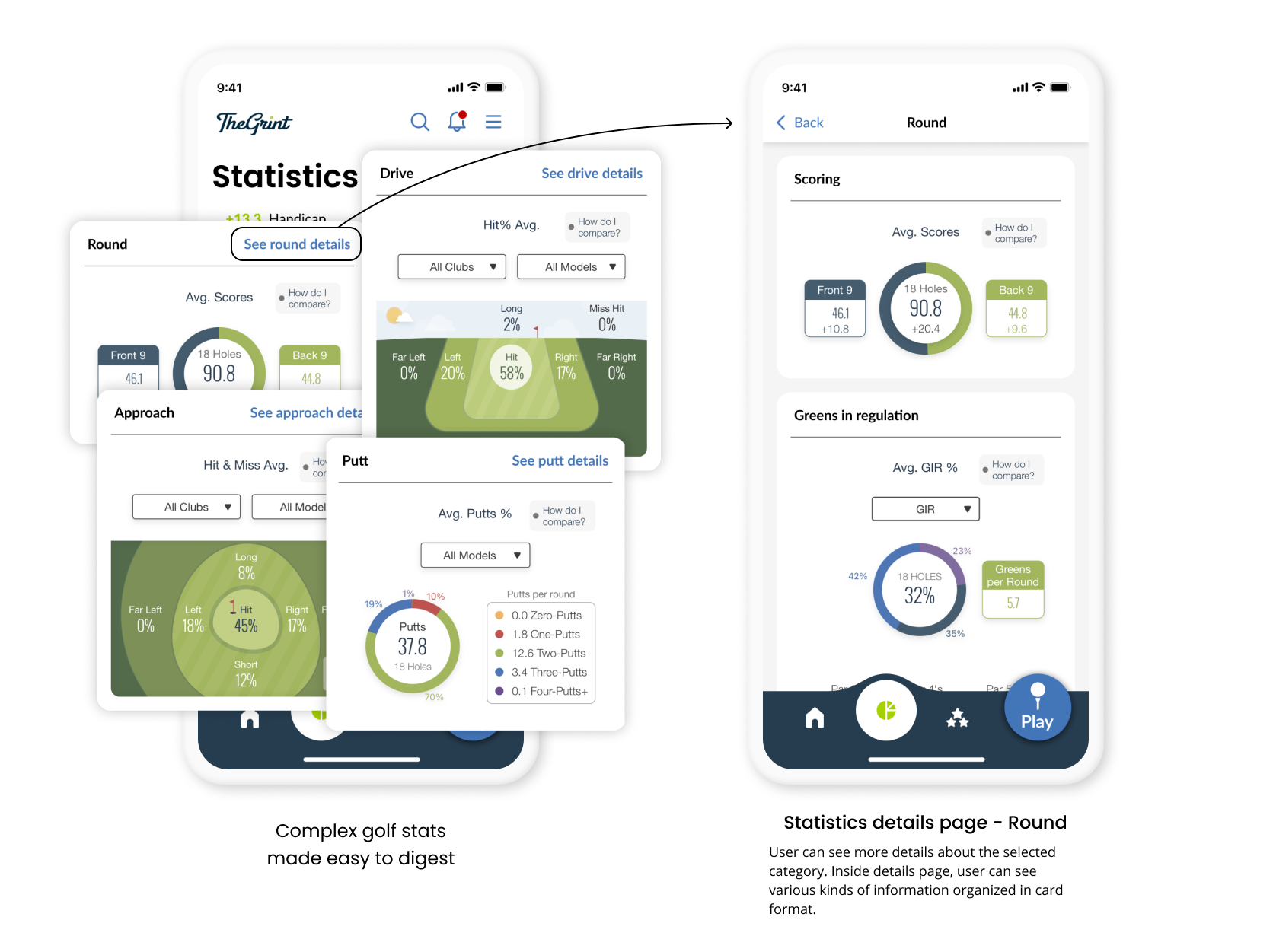 Consistency
To foster user confidence and familiarity, I established a consistent information hierarchy and employed straightforward, recurring formats throughout the app.
Intentionality
I deliberately chose visual elements, such as colors, typography, and font sizes, to create a harmonious and seamless user experience. For instance, all clickable buttons and text are in a heavier blue font, and important information is displayed in green.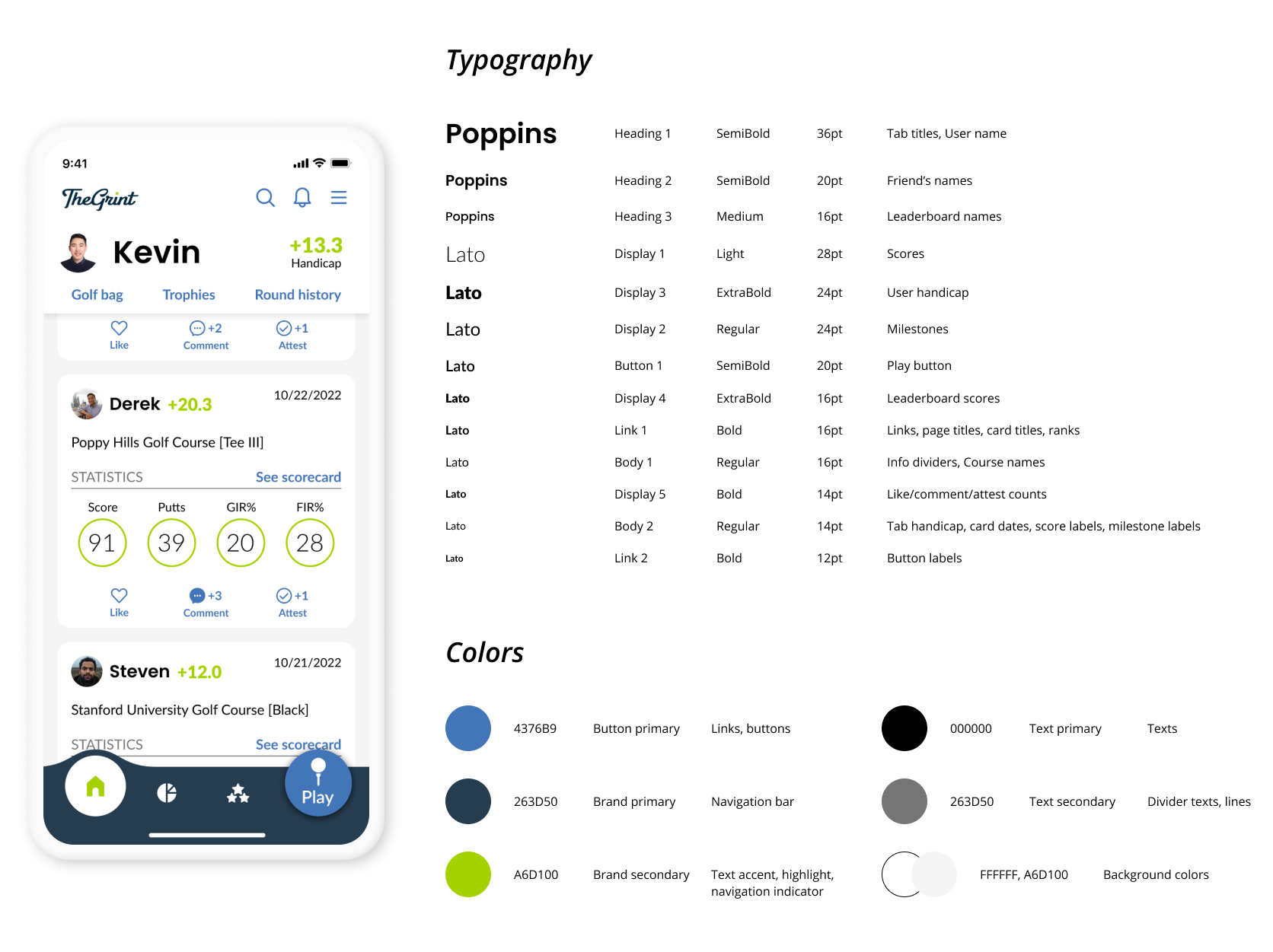 ENDNOTE
The redesign process was a valuable learning experience with a satisfying outcome. I submitted my Figma file to The Grint company with the hope that some of my ideas would influence their design team toward a better future.
It would have been useful to have data on user behavior, such as usage rate, task completion time, and success rate. Business metrics such as profitability and long-term goals would have also provided valuable perspective.